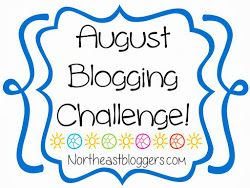 Day 7: Your favorite summertime destination.
Hands down, my favorite summertime place to visit is Ricketts Glen, PA.
Sounds like a random place to be in the summer, huh??
Lemme explain.....
My husband and I go to
Ricketts Glen State Park
in PA every August and go camping, sans kids. It's a state park, so with that comes lots of wildlife, like bears. Legit bears. We normally do a long weekend trip. It's filled with camping and hiking. Right very close to our campsite is the entrance to a waterfall hiking trail. That's our jam man! Lots of huge waterfalls and a cool hiking trail to venture on. When we get to the bottom of the trail there's the biggest waterfall there and we go out to this huge flat rock in the middle and eat our lunch. It's such an amazing small getaway, I love it!
P.S. There's no cell service there. You have to drive 10 minutes down the mountain in order to get service on the cell. Talk about off-the-grid-vaca..... Perfecto!
I'm out of town today, so I only have two photos at my disposal that I can share with you of my favorite place. I'm not happy about that, but it's gonna have to do I suppose, lol.
Don't forget to link up.... anyone can join (you don't have to be a member of the NE Bloggers group). There are challenges everyday in August, so jump on the banwagon!